Have you ever sprained your ankle and been told, "It's just a soft tissue injury"? As Physios, we hear this story all the time and it makes us bloody mad! Half of you just won't recover, ever! We've been scouring the ankle sprain research over the last few months and came across some alarming numbers. Statistics published in a journal article this year* confirm to us how poorly ankle sprains are looked after. This paper tells us
only 50% of ankle sprain sufferers seek professional help
40% will develop chronic ankle instability lasting more than a year
46% still experience pain 4 years later
Joint and cartilage damage can worsen over time
This really triggers us because we know we can help you avoid being one of these statistics. We are super disappointed that so many people miss out on the correct treatment. They then end up not being able to walk in the bush, get back to sport, or even back to work. As a result Jay McGuinness has just finalised our updated Parkside Ankle Sprain Clinical Pathway, a template for us to use to make sure our clients are getting world-class, evidence-based, effective management of a serious injury with long-term consequences.
When you come and see us (as soon as possible; even the same day as your injury!) You will get
An accurate, early diagnosis
A Screening exam to see if we really need to Xray your ankle
Immediate treatment to reduce pain and swelling and get you moving early, including an ankle brace
Most importantly, an exercise program initiated early, to restore ankle mobility, strength and balance and prevent chronic ankle instability
An exit exam to make sure you have satisfied our criteria for a great outcome with a flexible, strong and stable ankle which you can trust for years
If you'd like some more information, click here to download our ankle sprain fact sheet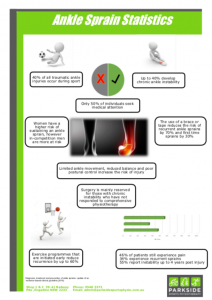 If you have an unstable ankle that you can't trust , or have just suffered an acute sprain, NOW is the time to start doing something about it. Early treatment is vital.
Click the button below to use our online booking system and grab an appointment right now!
*

, et al 

Diagnosis, treatment and prevention of ankle sprains: update of an evidence-based clinical guideline